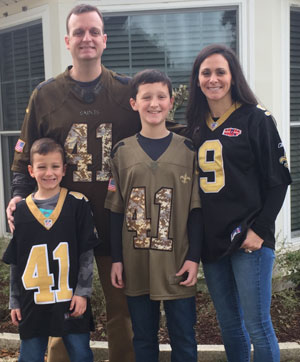 Eli, Dr. Rider, Nathan, & Shelley
Dr. Hal Rider has been a practicing dentist since 2001, and has treated patients from all over the world, in locations all over the world. He is originally from New Orleans, is married to his wife Shelley for over 10 years, and they are the proud parents of their two sons, Nathan and Eli. In his spare time, Dr. Rider enjoys golf, travel, music, and spending time with his family.
Dr. Rider received his Bachelor of Science from LSU in 1997, while serving in the LA Army National Guard in St. Martinville. Prior to graduation, he was awarded the US Army Health Professions Scholarship for Dentistry, and in 2001 Dr. Rider received his Doctorate of Dental Surgery (DDS) from the LSU School of Dentistry in New Orleans.
After graduation from dental school, he was commissioned as a Captain in the US Army Dental Corps and completed an Advanced Education in General Dentistry residency at Fort Campbell, KY in October 2002.
Dr. Rider was then assigned to the 464th Medical Company in Landstuhl, Germany from November 2002 to March 2006, in several leadership positions (Staff Dentist, Executive Officer, and Platoon Leader). He deployed to Iraq for 2 tours in support of Operation Iraqi Freedom, and served as Chief of Dental Operations in Tikrit (OIF-1) and Camp Bucca, Iraq (OIF-3).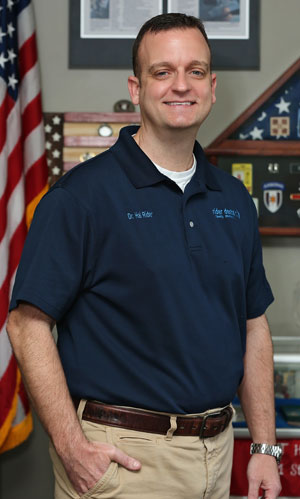 After completion of his military obligation, Dr. Rider and Shelley returned to the US in March 2006 and settled in Champaign, IL, employed as a staff dentist by the Veterans Affairs Dental Services. In April 2007, he purchased his existing dental practice in New Iberia and has since implemented comprehensive cosmetic and dental rehabilitation procedures, dental implant placement and restorations, digital x-ray and cone beam technology, and completed construction of a new state of the art dental office in July 2014.
Dr. Rider stays on the cutting edge of the new dental technology and techniques by attending numerous dental seminars throughout the year and has completed over 1000 hours of continuing dental education hours. He has received his Diplomate status in the International Dental Implant Association and his Fellowship in the Academy of General Dentistry. Dr. Rider is also a member of the Academy of Sports Dentistry, Veterans of Foreign Wars, American Legion, and Iberia Chamber of Commerce.